Folks, it is clear we have some of the biggest cowardly lions in the Alabama Legislature. They are terrified of the big lobbyist's groups. Who is scratching whose back? It certainly isn't the citizens of Alabama who are on the winning side. We have seen examples of some of the worst law enforcement actions this year than we have seen in years and the legislature does nothing but cave in? You would think the lobbyists put our legislatures in office. Maybe they did. See excerpts below of the Decatur Daily.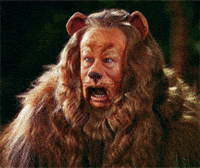 Some law enforcement agencies have a lot to hide and it appears that the legislators want to protect them from accountability. Case in point. The inmate food funds. I personally received a letter from Mr. Timmons telling me that Sheriff Ana Franklin was allowed to take inmate food funds. Now he is fighting for the sheriffs so that they may continue taking inmate food funds for their own personal pocket padding. I was not impressed with Timmons then and I am no more impressed today. Poor Mr. Timmons so worried about our sheriffs being inundated with paperwork. B.S. Furthermore, we only have a handful of lawmakers willing to stop the corruption county to county.
What incentive do lawmakers have to represent the citizens when they get their money from the lobbyists to aid them in their reelection campaigns? The citizens are the only ones who can change these actions by their votes. Why didn't the inmate food funds come up this year with all the publicity surrounding the sheriffs' greedy and dirty little secret that hasn't been a secret in years? Cowards in our legislature are why.
So why did the legislature in 2018 let two measures die? One of the measures was government seized property (civil and criminal forfeiture). Bless those poor thieving sheriffs' hearts that seize property that they are allowed to keep and use as they see fit. Why they couldn't possibly make it without our property. Even if you are innocent you most likely will never get your property back. On the second measure why we can't possibly keep data on minorities that are stopped? What would people think of the legislators in the State of Alabama? Wake up Alabama. Are some of our lawmakers worried that dirty little secrets may come out and make us look bad? Wait! We are way past looking bad while our legislature continues to be well! Cowardly lions.
No, so says the Alabama House Speaker. Hum!


Law enforcement should collect data
The state has no greater power than the power to deprive people of their lives, liberties and property. Alabamians need and deserve all the data they can get when deciding whether those laws are just and being enforced equitably.
http://www.decaturdaily.com/opinion/editorials/law-enforcement-should-collect-data/article_c19b7c9c-1cbb-58d8-93fb-f7aaf6f6c6df.html