Folks, we hear rumors that the Drug Task Force may be disbanded. Why? Bones took an organization that Howard Battles built through hard work and dedication and turned it into a disgrace. Howard was able to obtain grants for the Drug Task Force for years before retiring. He left all of his back up material as examples for those responsible of submitting the grants. Unfortunately due to lazyness the sheriff's office decided to use the commission as a source for funding instead of applying a little elbo grease and common sense in submitting for grants.
The lazy butt Bones and the Sheriff apparently ignored applying for grants and took little initiative to do more than rake in overtime.
Morgan County needs a Drug Task Force but major changes need to be made to the force along with plenty of education and training, the responsibility of turning their true stats into the State for accountability.
It would not hurt for these folks to take some human relations training as well.
The drug task force has been made up of all white men. It is about time that the sheriff's office learns how to spell diversity. White men are not the only ones busted in the county for METH and other illicit drugs. We need men and women of color as well as someone who is trained in the Hispanic language.
The entire MCSO could use more diversity as a whole.
When Sheriff Franklin took office most folks were excited because Franklin had the ability to bring a lot of change to the MCSO. As the first woman sheriff in our county, we were delivered a sack of coal instead of a sack of gold.
It wasn't long before things started going south. Folks, we are talking way south.
Will our county every regain enough trust to place another female sheriff in office? We believe so. One bag of coal does not make an entire gender and will not keep females out of the race in the future.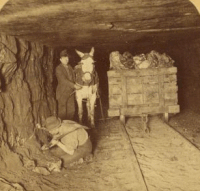 Sheriff Franklin style or lack of style of management has taken out county way back in time.